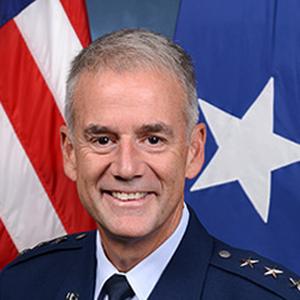 Lieutenant General Jay Silveria is the Superintendent of the United States Air Force Academy in Colorado Springs, Colorado. As Superintendent he serves as both a college president and military commander for the Academy, directing a four-year program of undergraduate education, military training, athletics, and character development. Graduates earn a Bachelor of Science degree and a commission as a second lieutenant in the United States Air Force.
General Silveria grew up in an Air Force family and is a 1985 graduate of the Academy he now leads. He has commanded a fighter squadron, an air and space operations center, a fighter wing, and the U.S. Air Force Warfare Center. Prior to becoming Superintendent, he was the Deputy Commander of U.S. Air Forces Central Command and Deputy Commander of Central Command's Combined Air Force Component, responsible for command and control of air operations over a 20-nation area in Central and Southwest Asia. As a command pilot with more than 3,900 flight hours in a variety of aircraft, he has flown combat missions in the F-15E, served in combat roles in the Balkans, Iraq and Afghanistan, and was the first general officer to qualify to fly the F-35A.
At the United States Air Force Academy, General Silveria guides a leadership team, faculty and staff that is dedicated to the institution's enduring core values while embracing the energy of change and innovation of this rising generation. As a central priority of his leadership, all who live, work, learn and serve at the Academy will treat one another with dignity and respect, so that the character traits fostered in its developing leaders will shape the future culture of the United States Air Force.