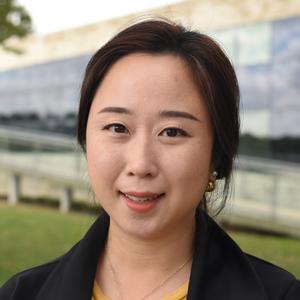 Hannah Park
Assistant Professor, Department of Design, School of Architecture and Design
Scientist, Cofrin Logan Center for Addiction Research and Treatment
Faculty, Institute for Health & Wellness Design
University of Kansas
Hannah Park is a design educator who is obsessed with socially conscious, trans-disciplinary, and UIUX design. She has been facilitating numerous community-engaged design projects with her students. Those design projects were funded by a wide range of organizations, including Frost Bank, Make A Wish Foundation, Audubon National Society, SRVS Disability Support Memphis, and Hill's Pet Nutrition, Colgate-Palmolive. Hannah received her BFA at Parsons School for Design, NYC, and her MDes at York University, Toronto. Her research has been presented internationally, including AIGA, CAA, Cumulus, E&PDE, RASC, SXSW, and TEDx. One of her ongoing research projects, 'Project Lemonaid: Mobile Outreach Hub for Mental Wellness,' was selected as a finalist at the 'Learn by Design' competition, 2019 SXSW EDU. Her current research focuses on 1. UIUX design for EHR and healthcare monitoring systems, 2. Service design for promoting mental wellness and preventing mental illness, and 3. Effectiveness of Design thinking education for the design and non-design major students.