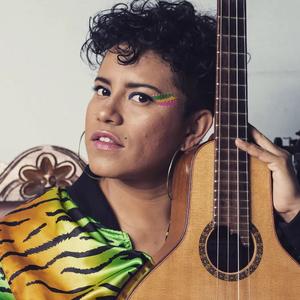 Mafer Bandola
(She/Her)
I am a Venezuelan musician, self-thought composer, community organizer, and educator focuses on innovating and channeling The Latinx Female Musician experience in a globalized world.
I grew up in the culture of the High Plains of Venezuela (Joropo Llanero), where I became an oral tradition practitioner and performer, of the "Bandola Llanera," a four-string instrument (in a male-dominated cultural environment). I focused on bringing the instrument to a new artistic path through improvisation, performance, and composition.
Currently work as a teaching artist with The Afro-Latin Jazz Alliance (ALJA) and for Carnegie Hall's Weill Music Institute through the different New York Boroughs.
Since 2021 I created and host The Pipiris Nights, a gathering community focus event where to play and dance Venezuelan Joropos in New York the Sundays of each month.
Events featuring Mafer Bandola
Mar 8, 2023
3:30pm — 5:00pm
Events featuring Mafer Bandola
Mar 8, 2023
3:30pm — 5:00pm