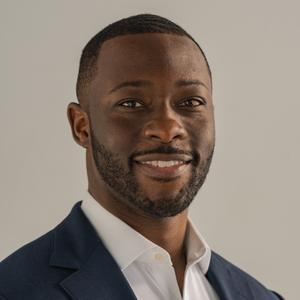 Mambu Sherman is the founding Executive Director of Southern Communities Initiative.
Mambu has spent his career building and scaling impact-driven initiatives that promote economic justice and equity, forging innovative cross-sector partnerships and implementing complex systems-change projects at both the national and local community level.
Prior to joining the Initiative, Mambu served as Vice President, Global Philanthropy at JPMorgan Chase, where he led the firm's philanthropic strategy across Chicago, Indiana and Wisconsin markets with the goal to drive inclusive growth and greater economic opportunity in cities. His work has included supporting small business ecosystems for women and BIPOC entrepreneurs; investing in the development of innovative products, fintech tools and programs that help people achieve financial stability; advancing holistic, locally driven solutions that help neighborhoods thrive; and supporting efforts that enhance career pathways and economic mobility.
From 2017 to 2020, Mambu was Senior Innovation Manager at Chicago Beyond, a philanthropic venture fund and impact investor. Mambu led the design, build out and management of the company's investment strategy and innovation initiatives. Mambu also served as the Atlanta Director for Boy With a Ball, a multinational community development organization, where he led the organization's expansion into Atlanta.
Mambu, who was born in Monrovia, Liberia and raised in Atlanta, Georgia, is a proud HBCU alum, receiving his undergraduate degree from Savannah State University and his MBA from NYU Stern School of Business.
Events featuring Mambu Sherman
Events featuring Mambu Sherman