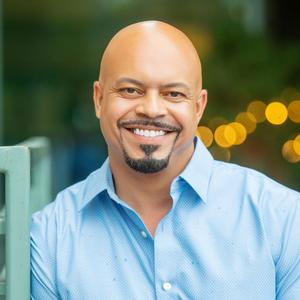 Jon-Adrian "JJ" Velazquez
JUSTICE POLICY CONSULTANT & PARTNERSHIP COORDINATOR
Advocate for justice
Champion for communities impacted by incarceration and the re-entry population
Consultant on wrongful conviction cases, program development, public speaking, and nonprofit management
"Have a vision. Be demanding." — Colin Powell
These simple, yet profound words summarize Jon-Adrian "JJ" Velazquez's life and professional philosophy of demanding nothing short of true justice. With more than 23 years of lived experience, incarcerated for a crime he did not commit, Mr. Velazquez has worked tirelessly to redefine the humanity of people who are or have been incarcerated. Mr. Velazquez has seized every opportunity to learn, lead, support, and give, which earned him an early release in 2021 via executive clemency—a rare and honorable accomplishment that attests to the moral fiber of his character.
True to the terms of his clemency, he now helps programs that work with justice systems by bridging communications with departments of corrections, community partners, and incarcerated populations to achieve ambitious mutual goals in criminal justice policy and reform.
While incarcerated, Mr. Velazquez became the voice of the incarcerated population at Sing Sing Correctional Facility. He established a unique rapport of trust with the prison's administration and implemented programs to improve his life and the lives of those around him.
Mr. Velazquez's passion is to help others who have been wrongfully convicted. As an independent consultant and certified paralegal, he has helped several innocent men obtain exonerations. His legendary partnership with Dateline NBC producer Dan Slepian, stemming from the production of "Conviction", was one of the factors that led to massive public support for his petition for executive clemency.
Events featuring Jon-Adrian "JJ" Velazquez
Mar 9, 2023
11:30am — 12:30pm
Events featuring Jon-Adrian "JJ" Velazquez
Mar 9, 2023
11:30am — 12:30pm