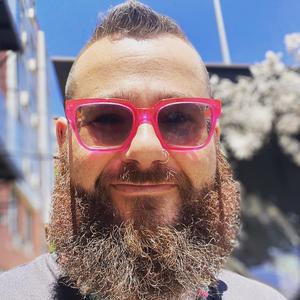 Drummer / Percussionist Martin (pronounced mar-TEEN) Urbach is a Latinx Immigrant,
educator, activist and youth organizer. His work in the classroom is based on facilitating
brave spaces for young folks to fall in love with music and to promote social justice
through music making in community.
He holds a BA in jazz performance from the University of New Orleans, a MA in jazz
arts from the Manhattan School of Music, an Advanced Certificate in Music Education
from Brooklyn College and is currently a Doctoral candidate in music education at
Teachers College at Columbia University where he is currently researching the
symbiotic relationships between critical pedagogy, youth activism and music education.
He serves as music educator, Restorative Justice Dean of Students and 10th grade advisor
at Harvest Collegiate High School in New York City. Int addition, Martin is currently
a "Vocal Justice Fellow" as well as an "Academy For Teachers" fellow and he contributes
to Decolonizing The Music Room as well as PBS, and NPR as education consultant on
issues of Restorative Justice, Social Justice activism and Critical pedagogy.
Martin was selected as a quarter finalist in the 2020 Grammy Music Educator Award and
is once again a quarter finalist in the 2020 Grammy Music Educator Award in the 2021.
Martin has presented his work on the intersections of social justice activism, music technology,
music education and youth development at conferences such as the International
Symposium of Music Education (ISME) in Baku, Azerbaijan (2018), the Association of
Popular Music Education (APME) at Berklee College of Music (2016) and at New York
University (2019), at the Freire50 conference at the University of South Carolina (2018),
The Sustaining Peace Forum at Teachers College, Columbia University. In addition to presenting
workshops at education conferences, Martin has published curriculum for the
New York City Department of Education, Little Kids Rock and Urban Arts Partnership.
Events featuring Jonaaron Arnell
Mar 9, 2023
11:00am — 12:30pm
Events featuring Jonaaron Arnell
Mar 9, 2023
11:00am — 12:30pm