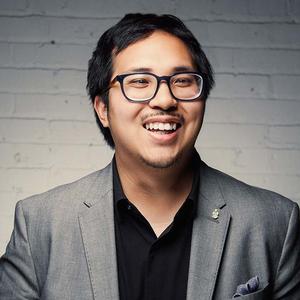 Kenny Nguyen is the CEO/Co-Founder of ThreeSixtyEight, a creative agency whose mission is to challenge common thinking to create an uncommon future. Since its inception, the agency has helped clients bring their missions to life through moving experiences. Through the success of the agency's work, ThreeSixtyEight aims to help the perception of their hometown of Baton Rouge, Louisiana become known as the creative epicenter of the south.
Alongside the agency, he also is the curator for Assembly Required, a community event series that brings together diverse communities that normally don't get together with topics that can transform their organizations.
Prior to ThreeSixtyEight, Kenny co-founded Big Fish Presentations, a company that focused on ridding the world of boring presentations through high-quality presentation design, presentation coaching, and speechwriting.
During his time at Big Fish Presentations, he co-authored the McGraw-Hill published book The Big Fish Experience: Create Memorable Presentations That Reel in Your Audience, now published in three different languages.
Outside his agency, he is an investor in Soji: Modern Asian restaurant and a frequent speaker for AAPI professionals looking to find their voice in leadership. He also serves on the US Chamber's Small Business Council and supports STARS (workers stilled through alternative routes) as an advisory council member of Opportunity@Work.
Despite the accomplishments, he's mostly remembered amongst his friends as either "the guy that orders really well for the table" or "his dog Taco's wrangler." He's ok with this.
Events featuring Kenny Nguyen
Events featuring Kenny Nguyen