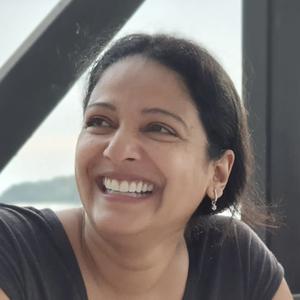 Kavitha Cardoza is a Washington-based journalist who has covered children, education and poverty for more than two decades. She is the public editor of the Education Writers
Association and coordinates programming and training opportunities for members as well as provides individualized reporting and writing help to journalists. 
Kavitha is a frequent contributor to NPR, The Hechinger Report and previously worked as a correspondent for Education Week/PBS Newshour. She has also worked at NPR affiliates in D.C. and Illinois. Kavitha was a 2021-2022 Spencer fellow for education reporting at Columbia University. She has received more than two dozen awards for her reporting. Her documentary series 'Breaking Ground' aired on more than 150 public radio stations.
Kavitha has taught journalism courses at George Washington University, University of California Berkeley, American University and the University of Illinois. She has published several academic papers on communication and has
master's degrees from the University of Illinois at Urbana-Champaign and the Manipal Institute
of Communication in India.
Events featuring Kavitha Cardoza
Mar 8, 2023
11:30am — 12:30pm
Presented by
Education Writers Association
Events featuring Kavitha Cardoza
Mar 8, 2023
11:30am — 12:30pm
Presented by
Education Writers Association