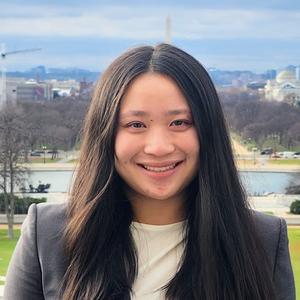 Genevieve Chin is a second-year computer science major in the UCLA Samueli School of Engineering and minoring in Community Engagement and Social Change. She was raised in an immigrant community in east Los Angeles where she got her start in community organizing through leading fundraisers for her Title I high school. She's passionate about technology for social good and education equity within public school systems.
She serves on the inaugural Los Angeles City Youth Council, representing CD 5, one of fifteen city districts. During her term, she develops community projects and civic events and makes policy and budget recommendations to improve the well-being, safety, and achievement of young Angelenos. This past summer, she worked on one of six ideas as part of the Federation of American Scientists' Future of STEM Learning Accelerator, developing a policy detailing the creation of the U.S. Computer Science Teacher Corps to address the need for qualified computer science teachers & increase access to computer science education in underserved schools. At UCLA, she is a Makerspace Technician for Residential Life. She ensures the Makerspace is a welcoming environment for students who did not have access to the space's resources (3D printers, laser cutters, woodshop, etc) prior to attending UCLA.
Genevieve hopes to utilize her skills to contribute to social change and become an intern for the White House's Office of Science and Technology Policy during college. Post-college, she hopes to work as a software engineer/project manager, use her experience to develop ethical technology policy, then serve in public office.
Events featuring Genevieve Chin
Mar 8, 2023
4:00pm — 5:00pm
Presented by
Allstate Foundation
Events featuring Genevieve Chin
Mar 8, 2023
4:00pm — 5:00pm
Presented by
Allstate Foundation