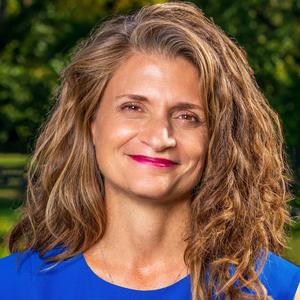 Karin Goldmark is a founder of GreenLink Education, a venture scaling powerful climate action solutions in the education sector. Karin previously served as Deputy Chancellor for School Planning and Development in the New York City Department of Education, where she led several major initiatives including landmark commitments of over $1B to improve accessibility in public schools, creating the school system's record-breaking $20B capital plan, innovative partnerships with the charter sector, and a $20M effort to develop next generation educational models. Karin has been recognized as a leader in innovation, driving rapid action in public institutions, and for her leadership of NYC's emergency child care services in the early days of the pandemic.
Karin served as Senior Education Advisor in the New York City Mayor's Office and has held numerous roles in the New York City public school system and in the nonprofit sector, including at PeerForward and the NYC Leadership Academy. She serves on the boards of the Salvadori Center, a project-based learnjng STEM education initiative, and PeerForward, a nationally recognized peer leadership model driving postsecondary access.
Karin holds degrees from the University of Pennsylvania, the Wharton School, and Yale Law School.
Events featuring Karin Goldmark
Events featuring Karin Goldmark