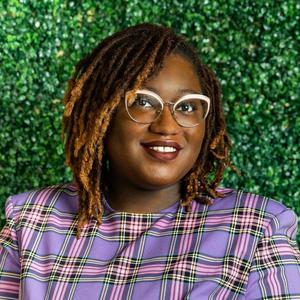 Deja L. Jones, M.Ed. is a Co-Founder and Head of Schools at Honeypot Montessori, a nature-based Montessori school in Newark, NJ. She is a Doctoral Candidate and Early Childhood Sociologist. Deja has worked in education and youth development in New Jersey for approximately 9 years in the areas of program coordination, program facilitation, curriculum design, and classroom teaching with organizations such as FoodCorps, Newark Public Schools, Sadie Nash Leadership Project, KIPP New Jersey, Boys & Girls Club of Newark, and Phillip's Academy Charter School. Prior to working in education, she maintained a career in media as a digital content writer for companies such as Madame Noire, Black Voices of Huff Post, Upscale Magazine, Saint Heron, Black Girl Magik, and Shape Magazine, W Magazine, ForHarriet.com, Bauce Magazine, plus many more. In 2016, Deja was nominated for a NJ 30 Under 30 2017 Ubuntu Award in Community Wellness.
Deja holds a B.A. in Journalism & Media Studies from Rutgers University-Newark, an M.Ed. in Teaching & Learning Leadership from Liberty University and is currently completing her Ph.D. at Saybrook University. Deja's research concentrations are tackling the emerging effects of environmental racism in early childhood development, building resiliency in Black youth through environmental education, and increasing awareness around sustainability in urban communities like Newark, NJ. She is a member of the NYC Early Childhood Research Network and focuses on liberatory pedagogy practices in early childhood education. She has spoken at conferences such as EdFest in Philadelphia, Nonprofit Professionals of Color Roundtable, Rutgers-Newark Urban Education conference, and was a keynote at a Rutgers-sponsored TEDTalk in 2019.
Deja obtained an AMI-accredited Montessori certification through the Southwest Institute for Montessori Studies in Mesa, AZ which is a member of the Montessori Accreditation Council for Teacher Education and is a trained Montessorian.
Events featuring Deja Jones
Events featuring Deja Jones