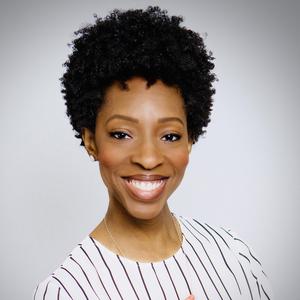 Dr. Kimberly E. Osagie leads the strategy and design of Echoing Green's programs to find, fund, support, and connect more than 1,000 social innovators across 86 countries.
Kimberly – a Nigerian woman with Louisiana warmth and a New York edge – brings 20 years of senior leadership experience in education, nonprofits, and philanthropy to her role as Vice President of Programs at Echoing Green. A teacher at heart and a system builder by preference, Kimberly has supported school systems, nonprofits, and social entrepreneurs to design and scale culturally relevant, inclusive, and equitable programs.
Kimberly started her career in Harlem, New York as a middle school English teacher. After five years working with students and families directly, Kimberly turned her focus to adult learning, hybrid in-person and online instruction, and coaching for equity as founding Associate Dean and Assistant Professor of Practice at Relay Graduate School of Education. Kimberly left Relay to pursue doctoral study, spending time in Lebanon studying the influx of Syrian refugees on the education system. Kimberly then served as a K-12 Education Program Officer at the Walton Family Foundation before joining the executive leadership team at Curriculum Associates as Vice President of Educator Success. Most recently, Kimberly served as founding Partner for diverse, inclusive, and equitable talent strategy at national talent advising firm, Promise54.
Kimberly holds a Doctorate in Education Leadership from Harvard University, a Master of Science in Teaching from Pace University, and undergraduate degrees in English and Political and Social Thought from the University of Virginia. She was selected as a Pahara Fellow for education leadership in 2014, earned a Derek Bok Center for Teaching Excellence Award at Harvard in 2017, and was granted an Equity Lab Seeding Disruption fellowship for her interest in place-based approaches to disrupting inequity in 2020.
Events featuring Kimberly Osagie
Mar 9, 2023
10:00am — 11:00am
Events featuring Kimberly Osagie
Mar 9, 2023
10:00am — 11:00am