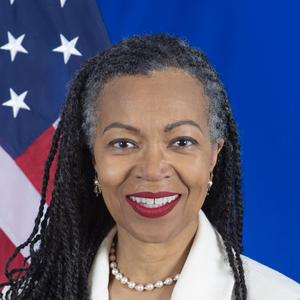 Gina Abercrombie-Winstanley
Ambassador Abercrombie-Winstanley is the Chief Diversity and Inclusion Officer for the Department of State. Her thirty-year diplomatic career includes serving as U.S. Ambassador to the Republic of Malta as well as several Senior Foreign Service positions. In addition to the State Department, she has held senior positions at the Defense Department, at the National Security Council and on Capitol Hill.
Prior to the Foreign Service, Ms. Abercrombie-Winstanley was a Peace Corps Volunteer in Oman. She began her formal work in teaching and leadership development as Chairwoman for Middle East Area Studies at the prestigious Foreign Service Institute where U.S. diplomats are trained.
Ms. Abercrombie-Winstanley is the recipient of the Maltese Order of Merit, Department of State Meritorious and Superior Honor Awards, including "For acts of courage during an attack on the U.S. Consulate General, Jeddah, Saudi Arabia on December 6, 2004, by al-Qa'ida terrorists."
Ms. Abercrombie-Winstanley, a Cleveland native with degrees from The George Washington University and The Johns Hopkins University. is a co-founder of LCWINS and is a member of the Council on Foreign Relations, the American Academy of Diplomacy and ICAP. In her spare time, she sings with the Washington Performing Arts Society and is a Star Trek fan.
Events featuring Gina Abercrombie-Winstanley
Mar 9, 2023
10:00am — 11:00am
Events featuring Gina Abercrombie-Winstanley
Mar 9, 2023
10:00am — 11:00am