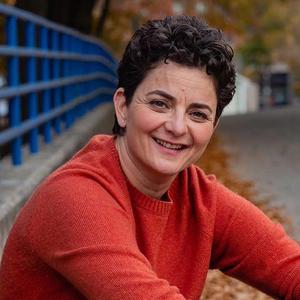 Luma Mufleh is the inspirational coach of a soccer team called the Fugees—short for refugees. The players on this team come from 28 war-torn countries, including Afghanistan, Iraq, Bosnia, Congo, Somalia and Sudan. Most of them have endured unimaginable hardship: one young boy was forced by soldiers to shoot his own best friend, another watched his father shot to death, and all have been robbed of their childhood.
An immigrant from Jordan, Mufleh moved to Atlanta a year and a half after graduating from Smith College. While driving through the town of Clarkston, Georgia, she noticed a group of boys playing soccer in the street. They played without some of the most basic equipment—but they played for the sheer enjoyment of the game —something that reminded her of home. In the summer of 2004, she made fliers announcing tryouts for a soccer team. The flyers were in Arabic, English, French and Vietnamese and were distributed around apartment complexes where many refugees lived.
Mufleh is a social entrepreneur who has created several businesses to gainfully employ refugees and immigrants in her community. In 2004, she created Fresh Start, a cleaning service that pays refugee and immigrant parents a living wage to clean residential and commercial properties. In 2010, she began Queen Food Company, a food truck business employing parents and graduates which focuses on authentic, ethnic street food.
Mufleh's latest endeavor is building the Fugees Academy, the very first school for refugee boys and girls in the US. The Fugees Academy is an unparalleled opportunity to serve boys and girls in grades six through twelve with an intensive college-prep high school curriculum that meets their unique needs as bright and talented young people who came to the U.S. with little English or formal schooling, but the hope of a better life. In this supportive but challenging environment, the Academy brings together diverse cultures and customs while working to prepare students to build the better life they have only dreamed of.
The story of The Fugees and their coach embodies many of the ideals that are thought of as "American": giving opportunity for self-fulfillment, using one's own ideas and talents to help the common goal and remembering that "we don't win or lose alone—it's always the team score in the end."
Events featuring Luma Mufleh
Events featuring Luma Mufleh