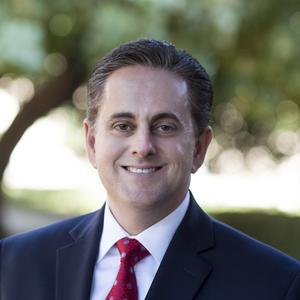 Jose A. Gomez is the provost, executive vice president, and chief operating officer at Cal State LA. Cal State LA is a premier comprehensive public university in the heart of Los Angeles, ranked number one in the nation for the upward mobility of its students. The university is a federally designated Hispanic-Serving Institution, Minority-Serving Institution, and Asian American and Native American Pacific Islander-Serving Institution.
Gomez is a proud product of the communities served by the university. A first-generation college student, he grew up in La Puente, California, and enrolled at nearby Cal Poly Pomona, where he received a bachelor's degree in sociology. Gomez went on to USC, where he earned master's degrees in political science and public administration and his Ph.D., also in political science. He joined Cal State LA in 2009 after serving in positions with the California Senate, the state Department of Justice and the state Treasurer's Office.
Throughout his career, whether in government or academia, Gomez has been an advocate for greater access to higher education. At Cal State LA, he has guided academic, research, philanthropic, and facilities initiatives that serve the university's mission of engagement and service for the public good. He was instrumental in the founding of Cal State LA's Prison B.A. Graduation Initiative, the first in-person bachelor's degree completion program for incarcerated students in the state of California.
Gomez chairs the Cal State LA BioSpace life sciences incubator and the Pat Brown Institute for Public Affairs at Cal State LA. He also serves on the Los Angeles County Economic Development Corporation (LAEDC) Board of Governors and Executive Committee, the Board of Directors of the YMCA of Metropolitan Los Angeles, and as president of the Board of Directors of the Western Justice Center.
Events featuring Jose Gomez
Events featuring Jose Gomez