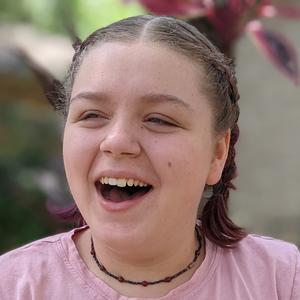 My name is Miranda. I have Cerebral Palsey. CP looks very different in everyone. For me, it makes it hard for me to move my muscles to talk and walk. Some people do not think I can understand them, but I can. I use assistive technology and sign language to communicate.
Lucky and I have been best friends since 5th grade. She believes in me and waits for me to choose my words.
It is hard for me to connect with people when I can't talk fast, but I can snap and clap and people will do it back. People see me when I snap.
Lucky always sees me.
Even if you are different, you can be a friend.
Events featuring Miranda Koenig
Events featuring Miranda Koenig