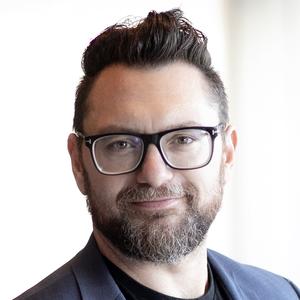 John Abodeely is a champion and steward of the arts on international, national and local levels. He has dedicated his life to equity in the arts ecosystem by raising millions for nonprofit and government initiatives that scale arts accessibility in education nationwide; overhauling organizational systems and operations to ensure funding is optimized for programs that increase equity, broaden access and decrease barriers for artists and nonprofits; and fostering workplace cultures that mirror and honor the diversity of the communities he serves.
John is the Chief Executive Officer of Houston Arts Alliance, an arts and culture organization whose principal work is to implement the City of Houston's vision, values, and goals for its arts grantmaking and civic art investments. The organization grants nearly $11 million annually to artists and arts organizations with John overseeing a passionate team of 16 staff members who run complex, competitive grantmaking programs, conserve and enrich the city's public art pieces and spaces, and protect Houston area arts, culture, and historic preservation communities during disaster.
Prior to joining Houston Arts Alliance, John served as the Acting Executive Director and Deputy Director of the President's Committee on the Arts and the Humanities, a White House advisory committee that addresses policy, arts and humanities education, cultural exchange, and the creative economy. There, he led the growth of programs that used art to improve the lives of children, led a historic arts delegation to Cuba, and raised millions of dollars for diplomacy and education programs.
John is a former Graduate Professor for education policy at the Corcoran College of Art and Design at George Washington University and Manager of National Partnerships for the John F. Kennedy Center for the Performing Arts.
He is a graduate of Amherst College with a Bachelor of Arts in Biology and Fine Arts, magna cum laude, and holds an MBA from Johns Hopkins.
Events featuring John Abodeely
Mar 8, 2022
2:00pm — 3:00pm
Events featuring John Abodeely
Mar 8, 2022
2:00pm — 3:00pm