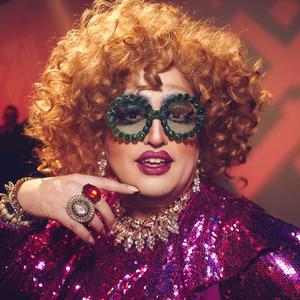 Lil Miss Hot Mess is the author of the children's books If You're a Drag Queen and You Know It (Running Press Kids, 2022) and The Hips on the Drag Queen Go Swish, Swish, Swish (Running Press Kids, 2020), the latter of which was featured on the Ellen Show as the beloved book of Jesse Tyler Ferguson. In addition to being an author, she is also a storyteller and board member of Drag Queen Story Hour.
Known for throwing extravaganzas like her "Bat Mitzvah x2" and roller skating parties, Lil Miss Hot Mess has appeared on world-class stages from Saturday Night Live to the Brooklyn Museum, and Stanford University to Occupy SF, as well as legendary clubs coast-to-coast like The Stud, Bushwig, Queen Kong, and many many more. She's also a queen who loves to play with creative technology, and helped lead the #MyNameIs campaign that successfully challenged Facebook's so-called "real names" policy.
Lil Miss Hot Mess's writing has been published in popular outlets like The Guardian, Wired, NBC News, Slate, and Salon, as well as academic journals including Curriculum Inquiry and Studies in Gender and Sexuality, and her work has been featured in documentaries and by media outlets around the world. By day, she is an assistant professor who researches and teaches on digital media, surveillance, and queer studies.
Events featuring Lil Miss Hot Mess
Events featuring Lil Miss Hot Mess