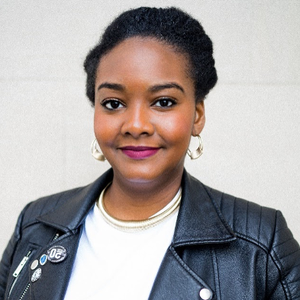 Meagan is a justice advocate and creative, with a passion for racial and gender equity. Previously serving as a civil rights attorney, Meagan encountered the consequences of systemic inequity frequently and engages in disruptive work to eradicate it. Meagan's commitment to dismantle systemic oppression and champion equity lead her to become one of the founding team members of "The Gospel And" (TGA) at her local church. Believing that faith demands a commitment to social justice, TGA is a program designed to encourage and cultivate authentic conversations around difficult topics such as race, politics and community. In this role, she helped lead a team and develop dynamic curriculum and programming to spur transformative, in depth conversations while also growing relationships.
As a community servant, Meagan has served in multiple roles including as the Vice Chair of the City of Austin Ethics Review Commission a member of the Criminal and Civil Justice working group for the Mayor's Task Force on institutional Racism. She served on the planning committee for the Austin Trailblazer Awards honoring stellar black women in the Austin community. Meagan is a graduate of the 2015 class of Leadership Austin, the recipient of the 2016 Rising Star award for the Black Austin Democrats and the 2018 Outstanding New Director of the Year for the Texas Young Lawyers Association.
Meagan graduated from The University of Texas at Austin with her Bachelors and J.D.
Events featuring Meagan Harding
Mar 8, 2022
6:00pm — 10:00pm
Presented by
Edmentum & Special Olympics