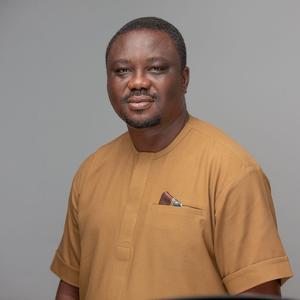 Freeman Gobah has worked in the non-profit sector for two decades and led impactful initiatives throughout Ghana. His work for the first half of his career focused on projects in the areas of HIV/AIDS counseling, Nutrition and Care, and Support for Vulnerable Children. During this time, Freeman led teams at a number of non-profit organizations, developed strong collaborative relationships with Ghanaian government officials, and established himself as a social impact leader in Ghana.
Freeman joined and set up the Ghana operations of Pencils of Promise in September 2012. Over the course of 10 years, he has led a team that has built nearly 200 schools across southeastern Ghana that currently serve more than 50,000 students. He has also led a team that established the organization's first e-reader program that now has more than 6,000 e-readers in circulation across dozens of public primary schools.
In 2017, he was awarded the Dream Makers Award by the Global Investment Community for revolutionizing social programs and reforms to positively impact the welfare of Africans. Freeman holds a BS in Biochemistry from the University of Science and Technology in Kumasi, Ghana and a MS in Social Medicine and Health Management from the Tongji Medical College at Huazhong University of Science and Technology in Wuhan, China.
Events featuring Freeman Gobah
Events featuring Freeman Gobah