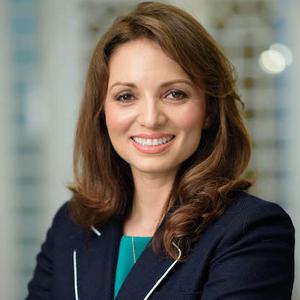 Domenika Lynch is the Executive Director of the Aspen Institute Latinos and Society Program (AILAS), with the mission of empowering Latino communities and promoting long-term economic growth and resiliency. All of AILAS programming is rooted in the goal of increasing recognition that the nation's success depends on Latinos' inclusion at all levels of society.
Over the course of two decades in leadership roles, Lynch has overseen strategic planning, policy advocacy, and public affairs campaigns for nonprofits and corporations, increasing donor and stakeholder support and raising millions of dollars for organizational endowments.
From July 2016 to May 2019, Lynch served as president and CEO of the Congressional Hispanic Caucus Institute (CHCI), the preeminent Latino leadership institute founded by Hispanic members of Congress in Washington, DC. Building on CHCI's 40-year legacy, she led an organizational and financial turn-around to ensure that CHCI will remain a premier national convener for thought leadership.
She previously spent more than a decade as executive director of the Latino Alumni Association (LAA) at the University of Southern California. During her tenure, LAA doubled its membership and tripled its endowment. Her professional breadth extends into the corporate sector, with previous leadership positions at Bank of America and Univision.
Lynch currently serves on the Board of Directors of the Congressional Management Foundation and serves on Bank of America's National Community Advisory Council which advises the bank on community development, environmental and consumer policy issues. She also serves on the Council on Underserved Communities (CUC) which provides the U.S. Small Business Administration (SBA) with input, advice and recommendations on strategies to help strengthen competitiveness and sustainability for small businesses in underserved communities.
A graduate of the USC Price School of Public Policy, Lynch holds a master's degree from t
Events featuring Domenika Lynch
Mar 9, 2022
5:00pm — 6:00pm
Events featuring Domenika Lynch
Mar 9, 2022
5:00pm — 6:00pm