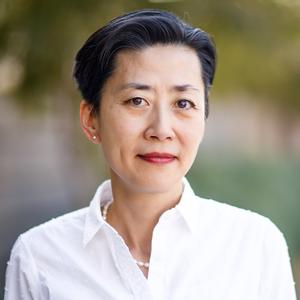 Ji Mi Choi is a proud product of NYC public schools. She serves as a vice president of Knowledge Enterprise at Arizona State University, ranked #1 in innovation (seven years in a row, U.S. News and World Report). Ji Mi leads the Edson Entrepreneurship + Innovation Institute, a pan-university resource dedicated to supporting ASU students, faculty, staff, alumni, and the greater community in their entrepreneurial endeavors.
Ji Mi has also served in various fast-paced and innovative roles at New York University and Columbia University. A lifelong New Yorker by way of Seoul and an avid internationalist, Ji Mi also served in a leadership role for the United Nations Development Programme and in various capacities for start-up organizations and has been involved in political campaigns.
Ji Mi serves on the boards of the StartupAZ Foundation, the Co+Hoots Foundation, the Global Consortium of Entrepreneurship Centers and numerous entrepreneurship and innovation advisory councils and committees.
Events featuring Ji Mi Choi
Mar 9, 2022
12:30pm — 1:30pm
Events featuring Ji Mi Choi
Mar 9, 2022
12:30pm — 1:30pm