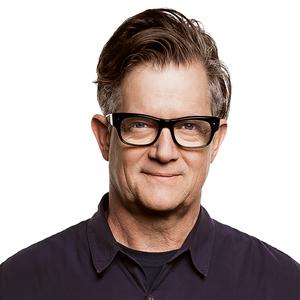 In the 1970s, Alex McDowell studied Fine Art at Central School of Art in London, worked with the Sex Pistols and fashion designer Vivienne Westwood, and founded music design studio Rocking Russian Design. In the 1980s, he migrated to America to work in music videos and commercials, and to launch a 30-year career as production designer in cinema, with more than 20 feature films to his credit. He has worked with directors Steven Spielberg, David Fincher, Anthony Minghella, Tim Burton, Terry Gilliam, Zack Snyder and many others. In 2010, as visiting artist at MIT Media Lab, he designed the robot opera Death and the Powers for composer Tod Machover, which premiered for Albert II, Prince of Monaco.
Alex is currently a professor at USC School of Cinema, where he directs the World Building Media Lab and World Building Institute, and teaches world building as a media-and platform-agnostic post-cinematic narrative design practice. Alex has written and spoken extensively about the future of narrative and world building for publications, conferences and events around the world. He was a Visiting Artist at MIT Media Lab from 2005-2010.
Alex also is co-founder and principal creative director at Experimental Design, a design and production studio that uses world building and storytelling to prototype the future and provoke change. He and his network of partners draw on deep expertise in film, games, live experience, architecture, new technologies and infrastructures to create stories and insights for corporations and non-profits that are immersive and unexpected. Experimental visualizes, humanizes and makes understandable an increasingly complex world in which technological advancements are rapidly advancing.
Alex has served on boards at the Getty Research Institute, the National Academy of Sciences, Autodesk, the UK Arts and Humanities Research Council, and the Pancreatic Beta Cell Consortium. His multiple awards include the lifetime RSA Royal Designer for Industry (RDI). He has an Honorary Doctorate at the Pardee RAND Graduate School as Doctor of Public Policy.
Events featuring Alex McDowell, RDI
Events featuring Alex McDowell, RDI