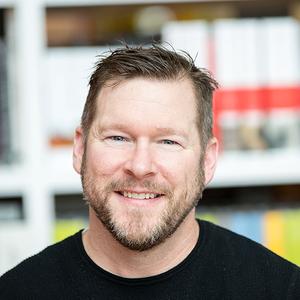 Mike is well-known for his attention to the integration of a project's guiding principles from concept to detail, as well as for his commitment to design excellence. An award-winning designer, Mike has a special interest in materials, tectonics, and landscape. He is an avid furniture collector and modifier who turned his basement into a fabrication shop where he experiments with wood, steel, and repurposed fragments for furniture and art.
Mike was previously an assistant professor at Louisiana State University's School of Architecture. He currently is a lecturer at the University of Nebraska-Lincoln's College of Architecture as well as the College of Engineering's Durham School of Architectural Engineering and Construction in Omaha where his students work has been featured in academic journals and publications.
Mike received the prestigious Skidmore Owings and Merrill Traveling Fellowship, also known as the "SOM Prize" in 2000, where he studied the work of Carlo Scarpa in the Veneto region of Northern Italy – which fueled his interest in Materials and tectonics. He is a past president of the Omaha chapter of the American Institute of Architects' Board of Directors, and a graduate of Leadership Omaha (Class 31). Mike co-created the Kaneko Architecture Design Camps, which allow adolescents to explore urban Omaha through design. Now in its eighth year.
Mike is also a combat veteran who served with the 82nd Airborne Division in the Gulf War as a paratrooper and mechanic.
Events featuring Michael Hamilton
Mar 7, 2022
5:00pm — 6:00pm