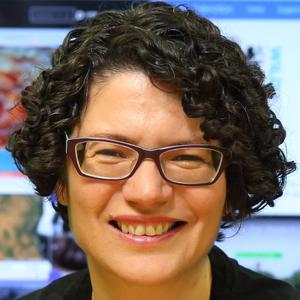 Dr. Tanya Berger-Wolf is a Professor of Computer Science Engineering, Electrical and Computer Engineering, and Evolution, Ecology, and Organismal Biology at the Ohio State University, where she is also the Director of the Translational Data Analytics Institute. Recently she has been awarded US National Science Foundation grant to establish a new Harnessing Data Revolution Institute, founding a new field of study: Imageomics. As a computational ecologist, her research is at the unique intersection of computer science, wildlife biology, and social sciences.
Berger-Wolf is also a director and co-founder of the conservation software non-profit Wild Me, home of the Wildbook project, which brings together computer vision, crowdsourcing, and conservation. It has been recently chosen by UNSECO as one of the top AI 100 projects worldwide supporting the UN Sustainable Development Goals.
Berger-Wolf has given hundreds of talks about her work, including at TEDx and UN/UNESCO AI for the Planet. She has received numerous awards for her research and mentoring.
Events featuring Tanya Berger-Wolf
Mar 9, 2022
3:30pm — 4:30pm
Events featuring Tanya Berger-Wolf
Mar 9, 2022
3:30pm — 4:30pm