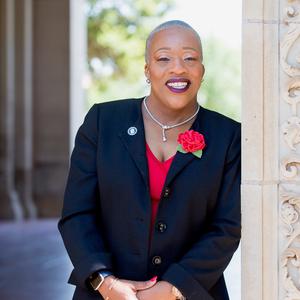 Dr. Carol A. Sumner is the Vice President (VP) for the Division of Diversity, Equity & Inclusion at Texas Tech University (TTU) and Chief Diversity Officer (CDO). Dr. Sumner reports directly to the president and is a member of the President's Cabinet and Executive Council. She leads the Division of Diversity, Equity & Inclusion (DDEI) which include a number of units that impact students across the educational continuum. As CDO, Dr. Sumner works across the university with stakeholders that include but are not limited to students, faculty, staff, alumni, community members and others to support, engage, and facilitate the university-wide goals to increase diversity and engage in practices that foster inclusion and equity. The Office of Institutional Diversity was established in 2019 to facilitate many of these efforts and also helps advance TTU's Hispanic Serving Institution efforts.
Previously, Dr. Sumner served as the Sr. Associate Dean of Students at Arizona State University, Tempe campus. As Sr. Associate Dean the scope of her portfolio provided oversight for the engagement of students in the university experience across communities and identities. She served in various roles and capacities during her 14 year tenure at ASU.
Her prior experience in higher education includes Washington University in St. Louis, (St. Louis, MO), Illinois State University (Normal, IL), and Wilberforce University (Wilberforce, OH). Dr. Sumner's employment has also included several positions outside of higher education.
Her service on boards and committees includes serving as Immediate Past President and Chief Operating Officer for the Big XII Association of Diversity Officers in Higher Education and YWCA of Lubbock Board of Directors. Dr. Sumner earned her bachelor's degree in Public Relations (with a minor in Spanish) and her master's degree in Higher and Postsecondary Education from Illinois State University. She earned her Doctorate in Education from Arizona State University.
Events featuring Carol Sumner
Mar 8, 2022
2:00pm — 3:00pm
Events featuring Carol Sumner
Mar 8, 2022
2:00pm — 3:00pm