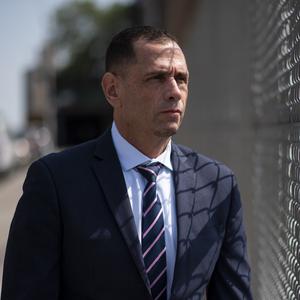 John grew up on a small vegetable farm in New Jersey. He later moved to Philadelphia after high school and began working various jobs to make ends meet. While there, he started using and selling drugs and was ultimately arrested and sentenced to 30 years in prison, despite being a non-violent first-time offender. For the first three years he was incarcerated, John didn't want to talk to anyone. But he eventually vowed that he "would refuse to allow his sentence to break him" and turned to education to "inspire and restore his hope for the future." He started taking classes through the Ohio University College Program for the Incarcerated, and helped others prepare for their GED.
After John was granted clemency, the transition out of the criminal justice system wasn't easy. But he credits family and programs like the Coming Home Project at St. Luke's Mt. Sinai Hospital in Manhattan, the Three Strikes Project, and the Colleges Initiative at John Jay College for helping him make it through. In 2017, John enrolled at Hostos Community College and graduated with a 4.0 GPA and an Associate's degree in Business Management. In 2019, he transferred to NYU on a scholarship where he continued to excel in his studies, participating in their Leadership Fellows program and working as a manager at a restaurant. He also worked to help others who were incarcerated find jobs or pursue higher education.
Last May, John was selected by his classmates to serve as NYU's undergraduate student convocation speaker. Today, he works as a general manager at one of Chef Tom Colicchio's restaurants in New York City and is an advocate for prison reform. John's life is a testament to the power of a second chance.
Events featuring John Gargano
Events featuring John Gargano