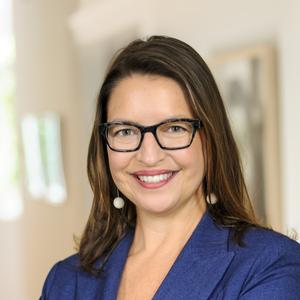 Dabney Hailey, Founder + Principal of Hailey Group, began her career as an art museum curator with a passion for sharing art's relevance to contemporary society. In 2014, she took a leap into the business world by founding her consultancy with the goal of bring arts learning to organizational behavior. She is a pioneer in the adaptation of a research-based museum method, Visual Thinking Strategies, into a leadership, communication, and innovation toolkit for businesses.
Dabney has worked with IDEO, her co-presenter at SXSW EDU, since 2015. Other Hailey Group clients include Fortune 500s, nonprofits, universities, and start-ups. She regularly works with MIT Sloan School of Management's Executive Education programs, delivering leadership workshops to global audiences, and the Sontag Center for Collaborative Creativity (the Hive) at the Claremont Colleges, where she helps integrate VTS into human-centered design education. She is co-director of the Harvard Medical School course, Training the Eye: Improving the Art of Physical Diagnosis.
Dabney is deeply motivated by the transformative possibilities of art experiences—particularly when we look and think together—to help us improve how we relate to one another and tackle our toughest challenges.
Events featuring Dabney Hailey
Events featuring Dabney Hailey