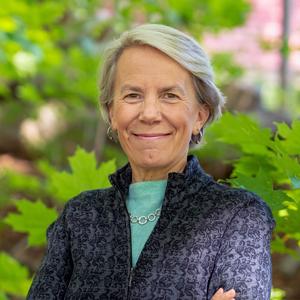 Miriam E. Nelson is President and CEO of Newman's Own Foundation. An international leader, scientist, and social entrepreneur renowned for her extensive research, policy work, and civic action in public health, children's wellness, sustainability, and food systems, Dr. Nelson leads the Foundation's efforts to make and sustain impactful change in the world through its philanthropy.
Dr. Nelson is the former president of Hampshire College in Massachusetts. Prior to that she was the director of the Sustainability Institute and deputy chief Sustainability Officer at the University of New Hampshire. She has also served as associate dean of Tufts University's Tisch College of Civic Life and professor of nutrition at its Friedman School of Nutrition Science and Policy. At the Friedman School, she was the founding director of the John Hancock Research Center on Physical Activity and Obesity Prevention and co-founder of ChildObesity180.
In addition to her original scholarship, Miriam has contributed broadly to public policy initiatives. In 2008 she served as the vice-chair of the Physical Activity Guidelines Advisory Committee for the U.S. Department of Health and Human Services. She also served on the 2010 and 2015 respective Dietary Guidelines Advisory Committees (DGAC) for the U.S. Department of Health and Human Services and U.S. Department of Agriculture. Within the 2015 DGAC, Miriam spearheaded the influential work on dietary guidance and sustainability. From 2011 to 2014 Miriam served as a member of the Science Board of the President's Council on Fitness, Sports & Nutrition (chairing in 2013).
Events featuring Miriam Nelson