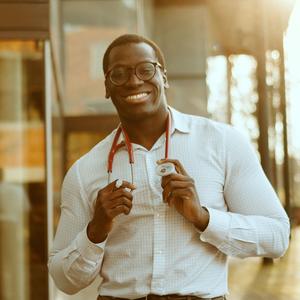 Joel Bervell is a third-year medical student at Washington State University, where he served as Student Body President and co-founder/ president of his school's Student National Medical Association.
In 2017, Joel graduated from Yale University, where he earned a BA in Molecular Cellular Developmental Biology. After graduating, he completed a Masters in Medical Science at Boston University and spent a year working as a clinical research assistant at Providence Hospital researching best treatment modalities for appendicitis.
Joel's mission is to diversify the field of medicine and address the persistent issues that arise from the exclusion and marginalization of non-white patients in medical education, research, and practice. Bervell is verified on Instagram and has more than 200,000 followers and 15m views on TikTok. He uses his social platform to highlight racial disparities in the field of medicine, bust medical myths, and tell untold stories.
Events featuring Joel Bervell
Mar 8, 2022
3:30pm — 4:30pm
Events featuring Joel Bervell
Mar 8, 2022
3:30pm — 4:30pm