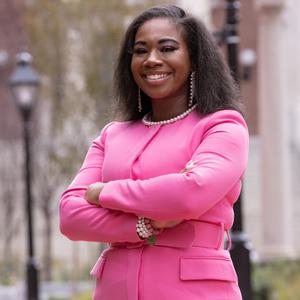 Chiquita Jackson earned her undergraduate degree in Political Science and Sociology at the Columbia College of Missouri and is currently pursuing her graduate degree in Legal Studies at the University of Baltimore. She's the founder & CEO of CJE Career Consulting, where she provides affordable professional development services to disenfranchised communities to help individuals with generational wealth. Jackson is also the youngest woman running the Maryland House of Delegates for this upcoming election year to bring impacted voices to the forefront of critical issues discussed in Maryland's State Capitol.
Throughout her experience, Chiquita has interned for several elected officials, including Kansas's first African-American State Senator Oletha Faust-Goudeau (D-KS), the youngest Michigan State Rep Jewell Jones (D-MI), and U.S Senator Ben Cardin (D-MD). During her time with Sen. Cardin, she assisted in drafting congressional floor statements for Black History Month and the centennial anniversary of Women's Suffrage.
Chiquita continued her advocacy mission through drafting public policy recommendations with well-known organizations such as The Aspen Institute and The Leadership Conference. Her dedication to fighting for social justice has been proved by serving as the inaugural IGNITE National Detroit Fellow. She curated safe spaces for young women to learn politics and increase their involvement.
Aside from her professional involvement in political environments, her membership in programs that directly advocate for marginalized and underrepresented communities include Young People For (YP4), B.A. Women Alliance, PLEN (Public Leadership Education Network), the Henry Clay Institute, NAACP NextGEN, Front Line Leaders Academy, Respectability, Congressional Black Caucus Foundation (CBCF), and AAUW Social Change.
Since June 2021, Chiquita has served as a Board of Directors for Light of Africa, promoting economic access to communities in disenfranchised areas throughout Africa. In addition, in January 2022, she served as the Co-Training Director for Rising Organizers. This advocacy organization provides training and support to entry-level organizers, activists, community leaders to help create a pathway to paid organizing work.
Events featuring Chiquita Jackson
Mar 10, 2022
9:30am — 10:30am
Events featuring Chiquita Jackson
Mar 10, 2022
9:30am — 10:30am