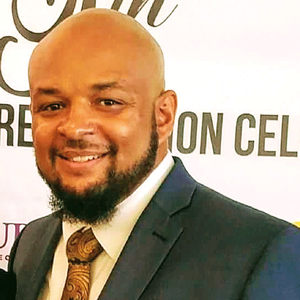 Dennis Henderson is the Executive Director of Manchester Youth Development Center and serves as the Advisor of Educational and Community Partnerships/Development and Strategy for X in a Box.
Dennis is a dynamic leader, educator and advocate of social justice through education for over 20 years.
As a teacher, principal and nonprofit executive, Dennis collaborated with a variety of industry leaders to create authentic experiences to expose students and families to careers, economies and opportunities not prevalent within traditional educational models or their immediate network.
Dennis has blended his personal and professional experiences into his passion for teaching and leading to innovate for social equity.
He currently resides in Pittsburgh with his wife, three daughters and a Miniature Schnauzer named Nipsey.
Events featuring Dennis Henderson
Mar 8, 2022
5:00pm — 6:00pm
Events featuring Dennis Henderson
Mar 8, 2022
5:00pm — 6:00pm