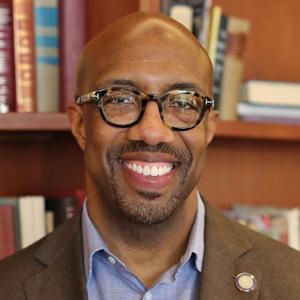 Dr. Michael J. Sorrell is the longest-serving President in the 151-year history of Paul Quinn College. During his 16 years of leadership, Paul Quinn has become nationally celebrated for its ability to reimagine higher education to better serve the needs of today's students and their communities.
Included among Paul Quinn's numerous accomplishments during
President Sorrell's tenure are the following: improving graduation rates by more than 30%; reducing the average student loan debt by $30,0000; building the first new buildings on campus in 50 years; creating the Urban Work College Model; winning the HBCU of the Year, HBCU Student Government Association of the Year, and HBCU Business Program of the Year awards; demolishing 16 campus buildings; partnering with PepsiCo to transform the football field into the WE over Me Farm; achieving full-accreditation from the Transnational Association of Christian Colleges and Schools
(TRACS); creating the College's first faculty-led study abroad program; and rewriting all institutional fundraising records.
Michael received his J.D. and M.A. in Public Policy from Duke University and his Ed.D. from the
University of Pennsylvania. He graduated from Oberlin College with a B.A. in Government.
President Sorrell serves as the chair of the Board of Governors for the Dallas Foundation and is a
member of the Executive Committee of the Board of Trustees for the Hockaday School. He is a trustee for the American Council of Education, College Track, Duke University's School of Law, and the Graduate School of Education at the University of Pennsylvania. Michael is also a member of the advisory boards of
Advancing Black Pathways (JPMC), Handshake, GSV, Guild, and Amegy Bank. He is a corporate director for Mainstay.
President Sorrell is married to the former Natalie Jenkins. Natalie is an alumna of Spelman College
and the Wharton School at the University of Pennsylvania. They have two children, Michael Augustus and Sage Louise-Sinclair.