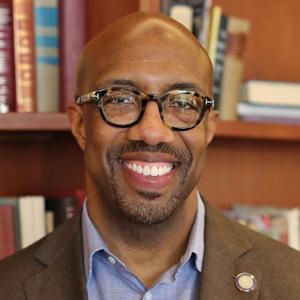 Dr. Michael J. Sorrell is the longest-serving President in the 150 - year history of Paul Quinn College. During his 15 years of leadership, Paul Quinn has become nationally celebrated for its ability to expand the boundaries of higher education to better serve the needs of under-resourced
students and their communities.
Included among Paul Quinn's numerous accomplishments during
President Sorrell's tenure are the following: improving graduation rates by more than 20%; reducing student loan debt by $30,0000 building the first new buildings on campus in 50 years; and creating the New Urban College Model.
Michael received his J.D. and M.A. in Public Policy from Duke University and his Ed.D. from the University of Pennsylvania. He graduated from Oberlin College with a B.A. in Government.
President Sorrell serves as the chair of the Board of Governors for the Dallas Foundation and is a member of the Executive Committees of the Board of Trustees for both the Hockaday School and College Track. He is a trustee for the American Council of Education, Duke University's School of Law, and the Graduate School of Education at the University of Pennsylvania. Michael is also a member of the advisory boards of GSV, Guild, and Amegy Bank. He is a corporate director for Mainstay.
Events featuring Michael Sorrell
Mar 7, 2022
12:30pm — 1:30pm
Mar 9, 2022
2:00pm — 3:00pm