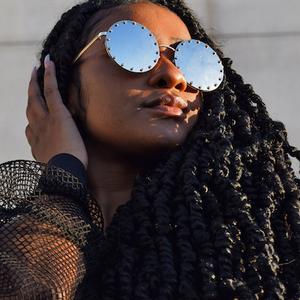 Introducing Nina J, a very special emerging R&B/Pop performer and songwriter. We ask you to listen and hear for yourself the dynamic talent that Nina J is in possession of. It is truly remarkable.
Nina J is enrolled in the Diverse Media Institute DMI, at High School for Recording Arts. DMI is a fully licensed one year degree in advanced audio engineering and business of music, offered to High School for Recording Arts graduates at no cost, with job placement opportunities post graduation.
Nina also participated in the U-Lead paid internship program at High School for Recoding Arts where she learned transferable job skills in publicity, entertainment law, digital marketing and podcasting.
Nina J comes from a long line of hit making artists. In fact her family tree reads like a who's who of pop music history from the last three decades. Her family has collaborated with the likes of Prince, The Time, Parliament, Diane Warren and more.
Nina's parents Sue Ann Carwell and Tomi Jenkins made multiple appearances in the Billboard top 40 dance charts during the 80's. Making hits with R&B legends like Cameo, Toni Braxton, Brandy, Selena Quintanilla-Perez, Prince and even appearances on movie soundtracks like 48 Hours, The Wedding Planner and The Best Man.
At 21 years of age Nina J is ready to carry the torch of her remarkable family history.
Her self-released debut album Change, is a blow-out of Nina J's whip-smart pop hooks, celebratory dance hits, and made for the radio bangers.
Change was produced by the CoolBoy brothers Ivy & Jamm Lewis, whose resume includes collaborations with Chris Brown, Mishon, Columbia Records, Jermaine Dupree, Dr. Miami, Bob Robinson, Usher, Justine Skye.
Can one record carry this much heat? Listen for yourself and decide.
Contact Information:
Management and Booking
Earl Cole
ecole1247@msn.com
818-693-0131
Radio and Publicity
ninajenkinsmusic@gmail.com
trelrhodes06@gmail.com
Events featuring Nina Jenkins
Events featuring Nina Jenkins