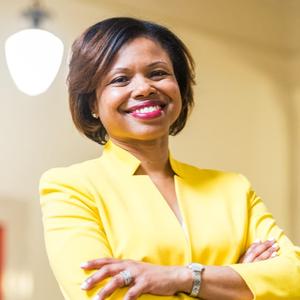 Sonya M. Pryor-Jones is the Chief Implementation Officer for The Fab Foundation.  This spin-off of the Center for Bits and Atoms at MIT (Massachusetts Institute of Technology) supports communities all over the world in innovation through digital fabrication and the scale of Fab Labs.  
As Chief Implementation Officer for The Fab Foundation, Sonya is charged with supporting the reach and scale of Fab Labs as a tool for education, community development and entrepreneurship.
Prior to joining the Fab Foundation, Sonya was the founding Director for a national placed-based education and community development strategy at the Sisters of Charity Foundation.  She also managed a $3.5 million STEM (Science, Technology, Engineering, and Math) effort as the Executive Director for Northeast Ohio's STEM initiative at Case Western Reserve University.  Her work with several projects has included collaboration with a wide range of partners including Chevron, Adam Savage/Tested.com, Policy Link, Battelle, GE, Rockwell Automation, NASA, and The White House Office of Science and Technology Policy. 
Additionally, Sonya manages her own consulting business, Synchronicity Consulting (http://www.synchideas.com/).  A boutique firm that supports clients in the cultivation and execution of new ideas and signature projects through facilitation, project management, and research & planning.  
Sonya earned a B.A. in International Studies and History from Kenyon College and an M.Ed. from Cleveland State University.  She also holds a Certificate in Executive Education for Appreciative Inquiry from The Weatherhead School of Management at Case Western Reserve University.
Events featuring Sonya Pryor-Jones