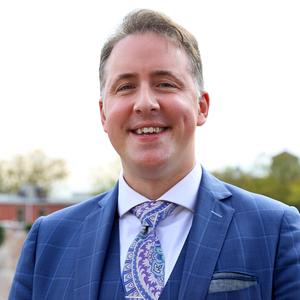 Michael Akin is a community builder and changemaker who has consistently and successfully tackled challenges by committing to the idea that doing well and doing good are not mutually exclusive. He has done so while building authentic relationships and connections locally and around the world that help people, organizations, and institutions thrive. Michael and his team have created an entire industry based around authentic "hyperlocal" engagement, and proven the market viability of a firm that does only community-serving work, generating meaningful social impact in a way that is profitable and sustainable.
Michael serves as the President of LINK Strategic Partners, a strategic communications, stakeholder engagement, and social impact consulting firm proudly based in Washington, D.C. In 7 years, LINK has expanded from a small local shop to a national firm with hundreds of local, regional, national, and international clients. Our world-class team of professionals ranges from 17 to 91 years of age and lead our offices in D.C., Phoenix, St. Louis, Maine, New York, and Manchester, England. LINK's mission-driven work includes thousands of hours of pro bono work provided to community partners.
LINK was recently listed on Inc. magazine's 2019 Inc. 5000 list as one of the most successful and fastest growing companies in America, named Large PR Firm of the Year by the Public Relations Society of America's National Capital Chapter, celebrated as 2019 Best Place to Work by the Washington Business Journal and rated a 2019 Top Places to Work in PR by PR News, and recognized as Congresswoman Eleanor Holmes Norton's 2019 Small Business of the Year.
Michael's community activities include serving as chairman emeritus of the Greater Washington Urban League board of directors. He also serves on the boards of Greater Washington Board of Trade, Hugh O'Brian Youth Leadership (HOBY), Destination DC, Cultural Tourism DC, Think Local First DC, and the American Experience Foundation.
Events featuring Michael Akin