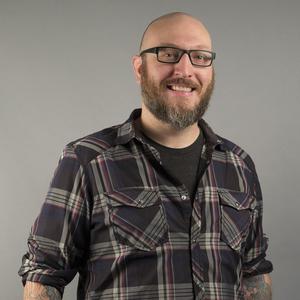 Rich Gurnsey is a lead multimedia designer at DELTA (Distance Education and Learning Technology Applications) at North Carolina State University. In this role, Rich collaborates with instructors, subject matter experts, instructional designers, and other teammates to develop or improve upon courses and instructional materials via visual media including animation, video, AR, VR, motion graphics, illustration, and graphic design.
Rich's recent projects include leading a team in the creation of an augmented reality app that transforms a graphic design theory textbook into an engaging multimedia experience, and helping to create a virtual organic chemistry lab -- complete with 360 video and animation, which enables users to carry out five experiments in a VR environment.
Additionally, Rich's freelance animation work has been featured in film festivals in the U.S. and abroad, as well as in galleries, online, and on TV. He is a graduate of the College of Design at NC State.
Events featuring Rich Gurnsey