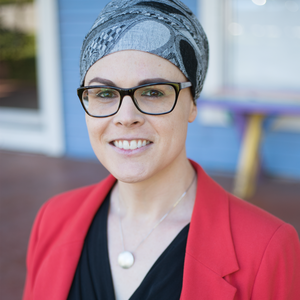 Kathryn Gonzales, The Lone Star Diva, is a transgender speaker, educator, and advocate for the LGBTQIA+ community. Kathryn is the co-author of Trans+: Love, Sex, Romance, and Being You, a growing up guide for trans and non-binary youth, and the Operations & Programs Director at Out Youth, an Austin-based nonprofit that has served LGBTQIA+ youth for 30 years.
Kathryn has worked in the nonprofit sector, specifically youth advocacy and organizing, for 15 years. She has facilitated state-wide youth lobby days, organized state-wide conferences on youth leadership and empowerment, and created the Queer Youth Media Project during her time at the Austin Gay & Lesbian International Film Festival. In 2017, Kathryn co-founded the Central Texas Transgender Health Coalition, which supports the health and well-being of the transgender and gender non-binary community.
Kathryn's research into the evolutionary importance of storytelling in our everyday lives heavily influences her work. As such, she always seeks new ways for youth to share their stories with the world.
Events featuring Kathryn Gonzales