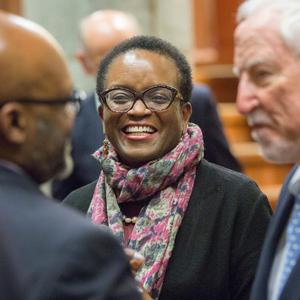 Valerie Smith, a distinguished scholar of African-American literature, is the 15th president of Swarthmore College. Smith's significant priorities at Swarthmore include attracting more low-income and first-generation students, innovating the curriculum, increasing diversity, and strengthening relationships between the College and the region. Under Smith, the College has been a leader in sustainability initiatives such as carbon pricing. She has also led the charge to reimagine numerous spaces on campus and invest in new facilities such as the Biology, Engineering, and Psychology building.
President Smith began her career in higher education in 1980 at Princeton. In 1989, she joined the faculty at the University of California, Los Angeles (UCLA), eventually serving as chair of UCLA's Interdepartmental Program in African-American Studies. She returned to Princeton in 2001 as the Woodrow Wilson Professor of Literature and Professor of English and African American Studies. She later served as founding director of the Center for African American Studies and the dean of the college, the position she held before arriving at Swarthmore in 2015.
President Smith is the recipient of fellowships from the Fletcher Foundation, the Guggenheim Foundation, and the National Endowment for the Humanities.
President Smith is a Phi Beta Kappa graduate of Bates College and holds M.A. and Ph.D. degrees from the University of Virginia. She is the author of more than 40 articles and three books on African-American literature, culture, film, and photography, and is the editor or co-editor of seven volumes.
Smith has served on the boards of Bates College, the New Jersey Council for the Humanities, and the McCarter Theater Center. She is currently a member of the Council on Foreign Relations and serves on the boards of Second Nature and Fulbright Canada. Under her leadership, the College is in the midst of a $450 million comprehensive campaign, Changing Lives, Changing the World.
Events featuring Valerie "Val" Smith