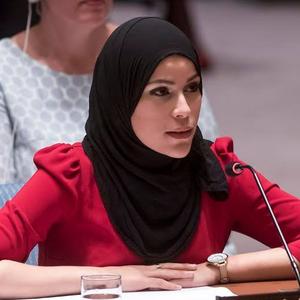 Alaa Murabit is a medical doctor, one of 17 Global Sustainable Development Goal Advocates appointed by the UN Secretary General, and a UN High-Level Commissioner on Health Employment & Economic Growth. In 2016 she founded a global Mentorship Programme for emerging leaders and co-founded The Omnis Institute, an independent non-profit organisation committed to challenging critical global issues through the empowerment of emerging local leaders.
An MIT Media Lab Director's Fellow and International Deliver For Good Influencer, Alaa serves as a trustee for The Malala Fund, International Alert, Malaria No More and Keeping Children Safe. She was most recently appointed the Executive Director of Phase Minus 1.
Her efficacy in security, health policy and sustainable development was most recently recognized by Forbes, Aspen Ideas and Bay Street Bull who named her a 2017 Forbes 30 Under 30, Aspen Institute Spotlight Scholar, and Canada's 30x30 respectively. Her leadership in global policy and in elevating the role of women, particularly young, minority women, on global platforms was recognized by Harvard Law who named her the youngest 2017 Woman Inspiring Change.
Alaa completed high school in Saskatoon, Canada at the age of 15 and moved to Zawia, Libya where she enrolled in medical school and founded VLW at the age of 21. With a strong focus on challenging societal and cultural norms Alaa champions women's participation in peace processes and conflict mediation. Her programs, such as the groundbreaking "Noor Campaign" are replicated internationally. Her TED Talk, released in July 2015, "What my religion really says about women" was selected as the TED Talk of the Day and one of four moving TED Talks you should watch right now by The New York Times.
Nicknamed "The Libyan Doogie Howser" by Jon Stewart and applauded for her innovative approach to security, she serves as advisor to numerous international security boards, think tanks and organizations, including the UN Security Council Resolution 1325 (women, peace and security), UN Women Global Advisory Board, and the Council on Foreign Relations. An Ashoka fellow, she is the youngest recipient of the Marisa Bellisario International Humanitarian Award by the Italian Government, was named the "International Trust Women Hero 2014" by The New York Times, ""One of 25 women under 25 to watch"" by Newsweek, a ""100 Top Woman"" by the BBC and the SAFE Global Hero.
Alaa was nominated to address the UN General Assembly multiple times, including during the Commission on the Status of Women opening session, and was nominated to address the UN Security Council during the 15 year anniversary of Resolution 1325.
Alaa completed her medical degree at the University of Zawia and went on to complete her Masters in International Strategy and Diplomacy with Distinction at the London School of Economics.
[Programming descriptions are generated by participants and do not necessarily reflect the opinions of SXSW.]
Events featuring Alaa Murabit
Events featuring Alaa Murabit