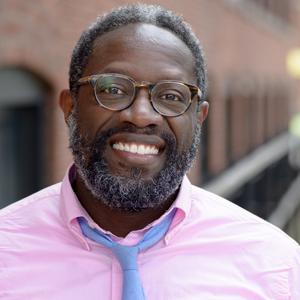 André Robert Lee has taken a very interesting path through the world of entertainment. Upon completion of undergrad at Connecticut College, André came to New York City on a fellowship to teach in Central Park East Secondary School's Secondary Senior Institute, where he taught "The Life and Works of Toni Morrison", "The African American Autobiography" & "Documentary Film Making." After teaching in East Harlem and upon receiving his Master's Degree, he went to work at The Ford Foundation where he discovered the world of grant-based Independent Film Making.
André wrote, directed and produced the autobiographical documentary, The Prep School Negro. He has embarked on an international outreach workshop tour with the educational version. There have been hundreds of workshops at high schools, colleges, gatherings and conferences around the world. After talks with the AMPAS© André agreed to go back into the edit room and expand the original version of the film into a feature length. There is now a theatrical version of The Prep School Negro. The World Channel acquired broadcast rights to the film and aired the film nationwide via PBS in February of 2014. There was encore rebroadcast in the winter of 2015. Because of demand the film will stream via PBS through February of 2017. Bookings for André are secured through the Fall & Winter of 2017.
André received an editorial & production fellowship from Race Forward / Colorlines to complete a 12 month series in 2014. The series is Life Cycles of Inequity. The challenge was a study of how African American Males face inequity from pre-natal through mortality. The work produced 8 video components and numerous infographic and essays that are used nationwide as a resource tool in the conversation of race and inequality.
André served as Producer on the documentary feature I'm Not Racist…Am I? The film falls under the banner of The Calhoun School's Deconstructing Race Project. As modeled by The Prep School Negro, the film has also
[Programming descriptions are generated by participants and do not necessarily reflect the opinions of SXSW.]
Events featuring André Robert Lee
Mar 6, 2018
2:00pm — 3:00pm