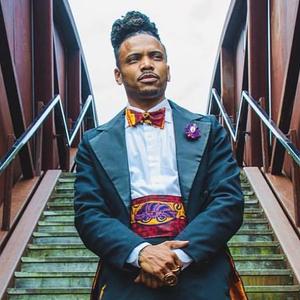 Asante Amin is a musician, composer and educator from New Orleans. He is a two time recipient of the Metlife "Meet the Composer" grant and award. He was also the 2011 recipient of the Young Lion Jazz award given by the Central Brooklyn Jazz Consortium. Asante served as the musical director for an off broadway Hip Hop Musical entitled "Sweet Billy and the Zooloos" which premiered on Summer Stage. In 2013 he embarked upon an amazing opportunity, collaborating with musical visionary Chen Lo on the groundbreaking production "Soundtrack 63", a millennial response to the year (1963) explored through music. Serving as musical director and composer of the music involved in the production, Soundtrack 63 came to life and was presented by Black arts organization - 651 Arts.
Life has been nothing short of a journey for Asante, who's versatility proves to be a memorable element and undeniable asset. As an experienced performer, he has shared the stage with Wynton Marsalis, Dead Prez, Third World, Raheem Devaughn and Mos Def, among others. He's been featured on MTVu with the Band The Lo Frequency, and was instrumental in creating horn arrangements for their album. Asante is also a founding member of the exciting production firm Soul Science, LLC.
In 2015, Asante released his self produced album "The Visitor Alter Destiny" and in 2016, under the name Soul Science Lab produced and released "Plan For Paradise" with business partner Chen Lo. Asante believes that the answer to all perceived problems lay in creativity and arts combined with the right intention -the key to creating a paradise on earth.
Events featuring Asante Amin
Events featuring Asante Amin