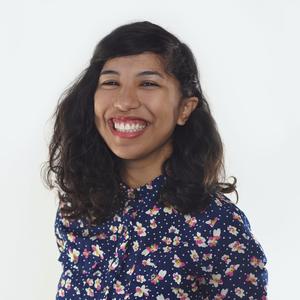 Creative Reaction Lab educates, trains, and challenges Black and Latinx youth to become leaders designing healthy and racially equitable communities.
Isabelle Yisak is a multidisciplinary creative who brings her experience in participatory design, facilitation, and social research methods to help spur more inclusive cities and equitable social systems. She earned her B.A. in Architectural Studies from Brown University with time spent abroad studying Urban Design in Copenhagen. Her academic career was the marriage of her interests in the built environment and cultural anthropology, and she is continually looking to expand her knowledge and hear people's stories.
Prior to joining Creative Reaction Lab, Isabelle co-created a fellowship program for K-12 teachers to address issues of racial inequity in their own school communities. In Chicago, she worked with sustainability-focused organizations and efforts to build regional resilience to climate change. Additionally, as a college student she co-founded and served as the Chief Strategist of Kaya Collaborative, a nonprofit that aims to inspire, educate, and mobilize youth in the Philippine diaspora as partners in long-term, locally-led social change in the Philippines.
"Why?" and "What if?" are the top questions that drive Isabelle's work in the social sector. Ever curious about the interplay between raising individuals' creative confidence and collective action, she hopes to collaborate with others in reshaping social systems and addressing social disparities intentionally, explicitly, and comprehensively.
Events featuring Isabelle Yisak
Mar 5, 2018
3:30pm — 4:30pm
Events featuring Isabelle Yisak
Mar 5, 2018
3:30pm — 4:30pm