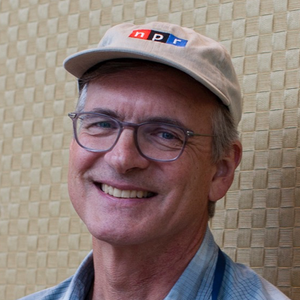 As NPR's Southwest correspondent based in Austin, Texas, John Burnett covers immigration, border affairs, Texas news, and features, and does investigative reporting. Though he is assigned to the National Desk, his beat has sometimes stretched around the world.
In 2012, he spent five months in Nairobi as the East Africa Correspondent. His special reporting projects have included New Orleans during and after Hurricane Katrina, the U.S. invasion of Iraq and its aftermath, and many reports on the Drug War in the Americas. His reports are heard regularly on NPR's award-winning newsmagazines Morning Edition, All Things Considered, and Weekend Edition.
Burnett has reported from more than 30 different countries since 1986. His 2008 four-part series "Dirty Money"—which examined how law enforcement agencies have gotten hooked on and, in some cases, corrupted by seized drug money—won three national awards: a Scripps Howard National Journalism Award for Investigative Reporting, a Sigma Delta Chi Society of Professional Journalists Award for Investigative Reporting, and an Edward R. Murrow Award for the accompanying website. His 2007 three-part series "The Forgotten War," which took a critical look at the nation's 30-year war on drugs, won a Nancy Dickerson Whitehead Award for Excellence in Reporting on Drug and Alcohol Problems.
In 2006, Burnett's Uncivilized Beasts & Shameless Hellions: Travels with an NPR Correspondent was published by Rodale Press. In that year, he also served as a 2006 Ethics Fellow at the Poynter Institute for Media Studies in St. Petersburg, Florida.
In 2004, Burnett won a national Edward R. Murrow Award from the Radio-Television News Directors Association for investigative reporting for his story on the accidental U.S. bombing of an Iraqi village. In 2003, he was an embedded reporter with the First Marine Division during the invasion of Iraq. His work was singled out by judges for the Alfred I. duPont-Columbia University Award honoring the network's overall coverage of the Iraq War. Also in 2003, Burnett won a first place National Headliner Award for investigative reporting about corruption among federal immigration agents on the U.S.-Mexico border.
In the months following the attacks of September 11, Burnett reported from New York City, Pakistan, and Afghanistan. His reporting contributed to coverage that won the Overseas Press Club Award and an Alfred I. duPont Columbia University Award.
In 2001, Burnett reported and produced a one-hour documentary, "The Oil Century," for KUT-FM in Austin, which won a silver prize at the New York Festivals. He was a visiting faculty member in broadcast journalism at the Poynter Institute for Media Studies in 2002 and 1997. He received a Ford Foundation Grant in 1997 for a special series on sustainable development in Latin America.
Burnett's favorite stories are those that reveal a hidden reality. He recalls happening upon Carlos Garcia, a Mexico City street musician who plays a musical leaf, a chance encounter that brought a rare and beautiful art form to a national audience. In reporting his series "Fraud Down on the Farm," Burnett spent nine months investigating the abuse of the United States crop insurance system and shining light on surprising stories of criminality.
Abroad, his report on the accidental U.S. Air Force bombing of the Iraqi village of Al-Taniya, an event that claimed 31 lives, helped listeners understand the fog of war. His "Cocaine Republics" series detailed the emergence of Central America as a major drug smuggling region. But listeners may say that one of his best remembered reports is an audio postcard he filed while on assignment in Peshawar, Pakistan, about being at six-foot-seven the "tallest American at a Death to America" rally.
Prior to coming to NPR, Burnett was based in Guatemala City for United Press International covering the Central America civil wars. From 1979-1983, he was a general assignment reporter for various Texas newspapers.
Burnett graduated from the University of Texas at Austin with a bachelor's degree in journalism.
[Programming descriptions are generated by participants and do not necessarily reflect the opinions of SXSW.]
Events featuring John Burnett
Events featuring John Burnett