Robert Paul
DeVry University - Pres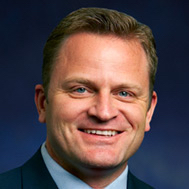 Quick Bio
Robert Paul was appointed President of DeVry University in 2014, where he provides executive leadership to the university's national network of campuses and online programs.
Paul is a 23-year veteran of private-sector higher education. He joined DeVry Group in 2007 as Vice President of Campus Operations at DeVry University, where he championed multiple service excellence initiatives. In 2011, Paul was appointed President of Carrington College, where he successfully led an effort to merge two separate colleges into a single, regionally-accredited institution. Before joining DeVry, Paul served as Regional Vice President for University of Phoenix, where he provided operations leadership to 17 campuses throughout the Midwest.
Paul is a member of the Proprietary Advisory Committee of the Illinois Board of Higher Education. He also serves on the Board of Trustees of DeVry University, and previously served on the Governing Board of Carrington College, and on the Board of Directors of the Association of Private Sector Colleges and Universities.
Paul holds a bachelor's degree in English from McDaniel College and a master's degree in organizational management from University of Phoenix.
← Back